Mt. Hayachine
---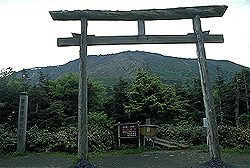 Mt. Hayachine viewed from Odagoe
(Photo provided by Hiroshi Okuda)
Mt. Hayachine, at 1917 meters, is the tallest of the Kitakami mountains.
This landmass, carried up from far south of its present position, rose up slowly and long centuries of erosion turned its mountains into gently rolling hills.
The reason a tall mountain like Mt. Hayachine stands isolated among the low slopes is because it is formed of ultrabasic rock-principally olivine with serpentine, a metamorphic rock-which resists erosion.
This makes Mt. Hayachine a monadnock.
Nihon no Shizen Chiiki Hen 2 Tohoku ("Japan's Natural Districts-Tohoku Vol. 2"), Iwanami Shoten
Mt. Hayachine is also known as a treasure trove of alpine plants.
One feature of Hayachine is that it is the only location in Honshu where many northern plants grow.
It is said that in the Diluvial ice age between two and ten million years ago, plants that prospered in places such as Siberia, Sakahlin, and Hokkaido moved south, but when the weather gradually warmed, these plants died out and only those on cold, tall mountains survived.
The World of Miyazawa Kenji and Plants, by Kazuo Miyagi and Takeichi Takamura.
Mt. Hayachine is also known as a mountain for mountaineering asceticism.


Hayachine Usuyukiso, whose name means
"lightly covered with snow,"
is a variety of flower unique to Mt. Hayachine.
(Photo provided by Hiroshi Okuda)

Among the rocks at the foot of the mountain
Clouds fly in fragments like screams
Light shines through the mist and it spills away
Each bell on the bluebells trembles
All are dressed in white cotton
To the south, green creeping pine
To the north are swirls of clouds like hair
I scramble up, one foot after the other,
Among the grasses and fringe-bells
Cold, skin-piercing wind
My eyes, too, tear
As I try to keep my breath.
"At the Foot of Mt. Hayachine," from The Complete Works of Miyazawa Kenji Vol.1, Chikuma Bunko
uWildcat and the Acornsv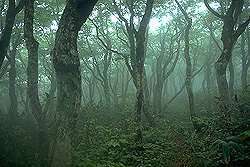 (Photo provided by Hiroshi Okuda)

Yukio Hayashi, author of Kenji's Field Notes, says that the village where the little boy Ichiro lives in "Wildcat and the Acorns" is the mountain village of Ohasama-machi. In the story, Ichiro receives a letter from Wildcat and goes to meet him. Hayashi believes he went along Dakegawa river and followed a path up Mt. Hayachine.

A breeze, transparent and clear, came gusting through a chestnut tree who scattered her chestnuts here and there.
Ichiro looked up.
"Chestnut tree, Chestnut tree, did Wildcat pass this way?" he asked.
The chestnut tree calmed her rustling.
"If it's Wildcat you're after, he rushed by in his carriage early this morning, heading east," she replied.
Excerpt from Six Early Stories of Kenji Miyazawa
translated by C.W.Nicol & Gan tanigawa, published by Ushio Shuppansha.
The Complete Works of Miyazawa Kenji Vol.8, Chikuma Bunko
---