Morioka
---
Kenji lived in Morioka from the age of 13 until he was 24, attending Morioka Junior High School and later Morioka Upper Agricultural and Forestry School (presently the Department of Agricultural in Iwate University). Morioka and the mountains and fields in the environs played an important role in shaping both Kenji and his literary works.
Morio (Morioka) and its environs are the principle setting for the story Polano's Square.

(Photo provided by Hiroshi Okuda)

At that time I was working at he Bureau of Natural History in Morio.-------------
I made a little barrier with boards where the horses were boarded, for the goat I kept.
I used to milk it every morning and made a breakfast of cold bread dipped in the milk.
Then I'd put some documents and magazines in my black leather bag, polish my shoes up nice, and walk in long strides through the shadow silhouettes of the poplars lining the road to the city offices.
The clear winds of Ihatov, blue skies that at bottom held a coolness even in summer, Morio decorated with beautiful forests, the glittering waves of grass on the outskirts of town, the people who lived there, (omission) it all seems to me now like a magic lantern of fondly-remembered green wind from the past.
The Complete Works of Miyazawa Kenji Vol.7, Chikuma Bunko
The Glacier Rat's Pelt

(Photo provided by Hiroshi Okuda)

All day on December 26 there was a terrible snow storm in Ihatov. The skies and the streets of the towns were all filled with a strange powdery dry snow that appeared white or blue. The wind beat incessantly at the telephone poles and the dead poplars, and the crows, half frozen, were carried reeling through the sky.
The jingle of bells on a horse-drawn sleigh could just be made out, though, which is how you knew someone must be coming.
The Complete Works of Miyazawa Kenji Vol.8, Chikuma Bunko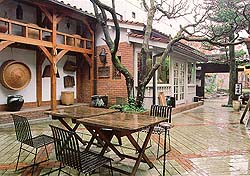 (From a Kogensha picture postcard)
Kogensha was the publisher for Kenji's collection of Ihatov children's tales, "The Restaurant of Many Orders." Today Kogensha is a shop that sells folk arts and crafts in Zaimoku-cho in Morioka. Kenji chose the name Kogensha, which means "source of light."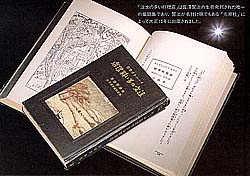 The book of Ihatov children's tales titled The Restaurant of Many Orders
(From a Kogensha picture postcard)
---